Site Menu
---
Home
First Floor
Second Floor
Third Floor
House
Senate
Fourth Floor
Dome
Exterior Views
Postcards
Exterior Statuary
Basement, Etc.
Rumors
Trivia
Construction
Cornerstone
Past Capitols
The Kid Zone
Images of the Past
---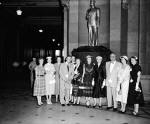 A photo of the dedication of the Richard J. Barr statue in 1953. The columns of the north portico may be seen through the windows at the end of the hall. The Comptroller's office was constructed in this area in the 1970's.Photo by Eddie Winfred "Doc" Helm, courtesy Illinois State Archives.

Second Floor
---
East Wing
1887

Photo courtesy of the Illinois State Historical Library.

The photograph on the left is in the collection of the Illinois State Historical Library and it brings to light some interesting facts. Notice that the statues are all white. The statues of Lincoln, Douglas, and Gov. Wood are today located in alcoves (pictured below) around the second floor rotunda and painted bronze, matching the other statues in this area. Also note the radiator covers along each side of the hallway and ornate ceiling decorations, which have been painted over.
East Wing Portraits

Henry T. Rainey
Speaker, U. S. House of Representatives

Henry T. Rainey was born in Carrollton, Illinois on Aug 20, 1860. After college and law school, Mr. Rainey returned to Carrollton and commenced his practice. He resigned as Master in Chancery for Greene County when he was elected as a Democrat to the U. S. House of Representatives and served continuously until his death, except for one term when he unsuccessfully contested the election of his opponent. Mr. Rainey was elected Speaker of the House for the 73rd Congress and held that position when he passed away in St. Louis Mo. on August 19, 1934. His funeral was held at Walnut Hall, the Rainey's rural Carrollton estate. President Franklin D. Roosevelt was among the estimated 35,000 in attendance.

Everett McKinley Dirksen
U. S. Senator

Born in Pekin, Il. in 1896, Everett Dirksen served in World War I and held several positions upon his return. He was admitted to the bar in 1936 and began practicing law in Pekin. Dirksen was elected to the U. S. House and served continuously from 1933 – 1948. He was not a candidate for re-election in 1948, but was elected to the U. S. Senate in 1950 and served there until his death in 1969. He served as Republican Whip and later was Minority Leader. Dirksen was famous for his booming, deep voice and actually recorded several spoken word albums.




James Hamilton Lewis
U. S. Senator

James Hamilton Lewis was born in the state of Virginia and after several moves, a term as U. S. Representative from the state of Washington, and service in the Spanish-American War, he moved to Chicago in 1903. A Democrat, Mr. Lewis served as U. S. Senator from Illinois from 1913 – 1918 and from 1930 until his death in 1939. Lewis was known as "J Ham" or "Pink Whiskers," a reference to his once flaming, later graying red beard. His funeral services were held in the chamber of the U. S. Senate.




Leslie C. Arends
U. S. Representative

Leslie C. Arends was born in Melvin, Il. on September 27, 1895. After college Mr. Arends served in the Navy during World War 1, returning to agricultural and banking pursuits upon completion of his service. He was elected to the U. S. House of Representatives and served continuously from 1935 – 1974, holding several Republican leadership positions during his tenure. Mr. Arends passed away in 1985.
Click here to visit the Governor's Office.
---
Rotunda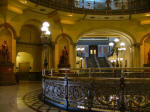 The Second Floor Rail
---
South Wing
Click here to visit the The Secretary of State's Office, which is located on the east side of the south corridor.
This link will take you to a page dedicated to Room 212, formerly the Illinois Supreme Court chamber, now a Senate committee room.
Hall of Governors



Photo Courtesy Steve Sarver
The south hall of the second floor is lined with paintings of former Illinois Governors.
Click here to visit the Hall of Governors.
---
West Wing
Grand Staircase
Room 218 - Former Law Library?