Site Menu
---
Home
First Floor
Second Floor
Third Floor
House
Senate
Fourth Floor
Dome
Exterior Views
Postcards
Exterior Statuary
Basement, Etc.
Rumors
Trivia
Construction
Cornerstone
Past Capitols
The Kid Zone
Images of the Past
---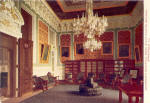 A postcard featuring the Governor's Reception Room, circa 1911, looking west. This area is shown as it looks today in the lower three rows of images on the right.
---
Views of the fireplace in the Governor's private office on the northeast side of the 2nd floor and the ceiling above it.
---
The left photo is of the State Library, viewed from the Governor's office. Center: A view of the 2nd floor balcony, facing north. Next is a photo of the fireplace in the office directly west of the one pictured above. It is visible through the door in the center photo at the bottom of the page.
---
The image on the left is of one of the doors leading to the offices on the south side of the Governor's suite. This area is now used by the Governor's Chief of Staff, but when the Statehouse first opened, these offices were occupied by the Secretary of State. Pictured are the ceiling and fireplace in the old Secretary of State's office.
---
The above photos are of both sides of the doors leading into the Governor's public office, which, when open, allow a partial view of these grand quarters.
---
These pictures show the ceiling and the Governor's desk. Note the Robert Root painting of the Lincoln-Douglas debate at Charleston, Illinois hanging behind the desk.
---
The photo on the left is of the mural in the center of the ceiling. The last two are of the door leading to the Governor's private offices, pictured above.
Photos: Copyright 2006 D&D
Thank you to those on the staff of Governor Blagojevich and the Illinois Senate who assisted us.