1894
---
A HOSPITAL TRAGEDY
SISTER BLANDINA KILLED AT ST. JOHN'S HOSPITAL
She Is Caught Between the Elevator and the Floor – Death Ensues Almost Instantly – She Was Formerly Mary Yax, of Belleville
One of the most terrible accidents which this city has had for some time occurred yesterday at St. John's Hospital, and one which cost Sister Blandina her life. She had been at work early in the morning in the drug department on the second floor, where she was an assistant druggist, and had received orders to go to the third floor to help in some work when she had finished her duties on the second floor. When she had finished them she went to the elevator to ride up in it, as she had been feeling somewhat weak. No one was around to see her enter the elevator, and so it cannot be positively stated how the accident occurred, but nevertheless, everyone in the Hospital was soon aroused by her pitiful cries. They ran to the place from which the cries came, and there saw the Sister hanging by her head, between the elevator and the wall. Someone below suggested that a ladder be raised to her and immediately an employee went for one, but before they returned a crash resounded through the building and the Sister lay mangled and bleeding at the bottom of the elevator chute, which is in the basement. She was killed instantly, and when picked up and borne away by willing hands, it was found that one arm and leg were broken, and that her head was crushed and mangled in a terrible manner. Many theories are advanced as to how she became caught in the shaft, but the most plausible one is that she stepped in the elevator and after it was in motion attempted to leave it, and before she could get her whole body out the floor caught her head between it and the inside of the shaft. Sister Blandina, or Mary Yax, came from Belleville, Ill., three years ago, and has ever since been a faithful worker here, having won many friends among the physicians by her intelligent ways. She was 21 years old.
The funeral will take place at 8 o'clock tomorrow morning at St. John's Hospital chapel, the Rev. Father Hineson(?) officiating. Interment will be in Calvary Cemetery.
Illinois State Register - January 3, 1894
---

SUDDENLY STRICKEN
DEATH OF JOHN C. POWER, CUSTODIAN OF THE LINCOLN MONUMENT
He Goes to His Duties Yesterday Morning, But Feeling Unwell Takes a Street Car Home and Dies Shortly After Reaching His Rooms – Apoplexy the Cause of His Death
John Carroll Power, custodian of the National Lincoln Monument, left his home yesterday morning, at No. 323 ½ South Fifth Street, to attend to his duties at the Monument, but began feeling unwell before he reached his destination. He reached the Monument and was feeling so bad that he started to return home about 9 o'clock. He reached the car at Fifth Street and Enos Avenue, but was unable to board it, and was assisted on by John H. Brinkerhoff and Capt. Edward Flaherty, who accompanied him to his rooms. With their assistance he managed to ascend the stairs, when he grew suddenly worse. Two physicians were called, but he was beyond human aid, and at 9:45 a. m. he passed peaceably to the world beyond. The physicians pronounced that he had been attacked with a stroke of apoplexy.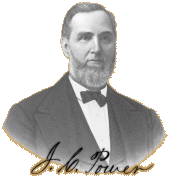 Mr. Power was born in Flemings County, Ky., September 19, 1819. Most of his early life was spent on a farm, but he never seemed to take to that life. His mind seemed to run more to writing, history and biography. When yet a very young man he left the farm and moved, in 1845, to Aurora, Ind., where he married Miss Sarah Ann Harris. From Aurora he moved to Peoria, living there about three years, when he and his wife moved to this city in 1869. Shortly after his arrival here he began to collect information for "The Early Settlers of Sangamon County," which he completed with much success. Among his other noted and best writings are: "The Rise and Progress of Sunday Schools," a "History of Springfield," and "An Attempt to Steal the Body of Lincoln." In 1873, while he was engaged in gathering the information for his book, "The Early Settlers of Sangamon County," he was appointed custodian of the Lincoln National Monument, which position he has ever since held.
Mr. Power lived at No. 421 Keyes Avenue for fourteen years, removing to No. 323 ½ South Fifth Street about a year ago. He has been a Presbyterian for the past fifty years, and was a staunch member of the Second Presbyterian Church of this city.
In his death Springfield loses on of her best citizens; one who has always been cheerful and kind, and of a generous nature, which has won for him a host of friends. His wife died two and one-half years ago and was laid to rest in a beautiful spot in Oak Ridge Cemetery.
He leaves to mourn his loss one sister and one brother, Mrs. Frances Wallace, of Sullivan, Ind., and Lawson Power, of Flemings County, Kentucky, beside his niece, Miss Mary Wallace, who has made her home here for the past eight years, having come from Sullivan, Ind. He leaves $4,000 insurance from the Masonic Mutual Benefit Association in her favor.
The news of the sudden death of the portly, fine looking old gentleman whose figure is familiar to the majority of the citizens of Springfield, and who will be recalled by all who have ever visited the Monument, was the occasion of much surprise, and many expressions of regret were heard.
The funeral services will be held in the Second Presbyterian Church this afternoon at 3:30 o'clock. Opportunity will be given to view the remains at the residence from 10 a. m. until 1 p. m.
Illinois State Register - January 12, 1894
---

A GLITTERING SCENE
THE MIDWAY PLAISANCE OPENED AT THE STATE HOUSE LAST NIGHT
The Great Halls and the Rotunda on the Third Floor Crowded With Visitors – Some of the Finest Displays Ever Made by Merchant and Manufacturers of Springfield to be Seen There – Music Last Night by the Germania Mannerchor, St. Vincent's Band and the Y. M. C. A. Orchestra – The Watch Factory Band to Play There Tonight
Midway Plaisance in all its glory was opened last night at the State House, and the Senate Chamber, Hall of Representatives, old Art Gallery and rotunda were crowded with hundreds of spectators in attendance. The entertainment is being given by a number of generous and public-spirited ladies of the city, headed by Mrs. Jennie Spurrier, and the proceeds, whether in money or in edibles, are to be given to aid the unemployed of the city. The scene which met the eye of the beholder last night was one of glittering splendor. "Midway Plaisance" is a misnomer for the exhibition, however, for there are not over a half a dozen of the features which characterized the motley street of foreigners at the World's Columbian Exposition represented at this show at the State House. Going into the great chambers with their vaulted domes and gazing at the bewitching display of goods shown, one could almost imaging himself, however, in the manufactures and liberal arts building at the great fair, or, in some sections of he woman's building – or perhaps even the agricultural building, or the horticultural building, or the machinery hall. In the glitter of the arc-electric lights and of the numerous gas illuminators the scene was gay, beautiful and animated.
That the enterprise will be a success financially, as well as otherwise, is assured. Last night, with a few of the exhibits still only partially completed, the cash receipts were $235, nearly all of which will be clear profit, and large donations of flour, vegetables, and the like were received. Some persons brought sacks of salt and loaves of bread, but these will not be received as admission fees tonight.
The Y. M. C. A. orchestra, the Germania Mannerchor and St. Vincent's Band were stationed at various places and rendered sweet music during the evening, and, on the whole, with the bustle and din of voices, persons would think that they were again enjoying the sights and scenes of the great fair for a second time. J. L. Powell acted as doorkeeper.
Upon reaching the third floor the first thing seen in the rotunda was an ambulance, advertising the firm of Withey Bros.
Next to it was a printing press owned by D. Hardin, which was kept in full operation all evening.
Among the other exhibitors in the rotunda as George W. Harnett's elaborate display of signs; and a cannon representing a Krupp gun. The Blarney Stone was a charge of Misses Lou. Hopkins and Rena Smith.
The Old Plantation was in charge of R. B. Bailey, assisted by Elder Meadows, it was a novel affair, the growing cotton and a tree with three possums being represented very naturally.
A coal mine was operated by J. Dick Hardin and was in charge of Mr. Hardin and Fred Eldridge, assisted by George Terrence, Albert Ball, Joe and Fred Brinkman and Fred Wardlow, who personated miners, and could be seen away back in the mine working. They also had an old shaft mule, which looked very natural.
The Russian display was in charge of Mrs. Kate Lorch, the noted dressmaker, who is lately from St. Petersburg, Russia. This booth was finely decorated with furs, which were furnished by C. D. Roberts. Mrs. Lorch represented a Russia peasant girl attired in her Sunday gown, decorated with beads and the like. She was assisted by Mrs. Mary Maisenberger, Mrs. Margaret Flynn, Mrs. Mary Monnett, Miss Effie Goveia and Master Theodore Lorch. They served tea here in the regular Russian style.
The Esquimaux Village was also in the rotunda and was one of the most attractive features of the entertainment. Everything had been covered with cotton batting, to represent snow, and the reindeer hitched to a sled was there, and the little Esquimaux boy was drawing it. His house was also superbly represented in nice shape.
IN THE SENATE CHAMBER
On entering the Senate Chamber, which had been made to represent the manufactures and liberal arts building, the visitor was immediately struck with the grandeur and the finery which was displayed. In the front, the Lieutenant Governor's stand was decorated with flags and bunting, and around the walls the following booths were represented:
The Beauty Show, or the congress of beauty, was chaperoned by Mrs. A. P. Williams, Mrs. La Rue Vredenburgh and Mrs. Mary J. Stadden, and elicited much speculation as to who was the prettiest lady. The ladies were Misses Lucy and Lydia Williams, Laura and Nellie Fisher, Charlotte Roper, Essie Irwin, Jennie Kimball, Louise Goltra, of this city, and Mamie Hook, of Jacksonville. Tonight a party of the O. A. D. club will occupy the booth. One of R. L. Berry's pianos was here and it was kept busy all evening, and the party received calls from Mrs. Altgeld and Mrs. Orendorff.
The Temple of Music was represented by R. L. Berry, who had two pianos and an organ in a booth, which was prettily decorated with large flags and white and pink cloth.
Persia was represented by John Bressmer. It was in charge of Charles Parkinson, who represented a Persian; Misses Mae Nafew, Jessie Fee and Blanche Nebinger. This was one of the prettiest of the booths, and was elaborately decorated with costly rugs, a very rich carpet, a couch and four large, heavy chairs.
The Art Gallery was represented by Frank Simmons who had a number of pretty pictures artistically arranged in a large group.
China was well represented by R. H. Ferguson, whose display was in charge of Guy R. Mathis, assisted by little Miss Alice Conner. It was composed of dishes of various kinds, beautiful lamps and shades, and fine Worster and Dresden vases. The large teapot which was manufactured by Alfred Meakin at Turnstall, Eng., was also on exhibition.
The Paris Art studio was represented by Miss Jessie Smith, a graduate of the Florentine School. Some elegant portraits in oil, sepia, water colors, India ink, pastelle, charcoal and crayon were exhibited. Her assistants were Misses Mae E. Ayer and Alice and Mabel Stockdale. Freund's Mandolin Club was stationed here and rendered some of their best selections. It was composed of Lewis H. Hickman, Perl Hofferkamp, Robert O. Gomes, Jesse Strode and Charles Bowers. The playing received much favorable comment. The tri-color of France floated over the exhibit of Herndon, whose exhibit consisted of parasols, silk, and pretty lamps and shades. It was in charge of William Hawthorne, George Hesser and Misses Mary Shaughnessy and Maggie Early.
The gents clothing house was represented by Myers Bros., the popular clothiers. The display, which was a very complete one, was in charge of John R. Neal, assisted by Dixon Grout and Albert Simmons.
Tiffany's Chapel was represented by McGrue and Plerik, and was prettily decorated with mantels, vases, lamps with pretty shades, and a rich Brussels carpet. It was made with an arched dome. It was in charge of Misses Anna Grout, Etta Stadden and Hazel Elkin.
The Merchant Tailor was represented by B. B. Lundahl, who had his booth nicely arranged with different kinds of cloth. He was assisted by Frank Gehlman and Miss Millie Anderson.
In the center of the room was a magnificent display of fine candies by Maldaner, the confectioner. It was in charge of Miss Clara Maldaner.
Bunker & Co.'s millinery booth, in charge of Miss Millie Young, was very attractive.
Brown & Canfield's exhibit of flowers was directly in the center of the chamber and was one of the prettiest in the room. It contained a large quantity of plants and flowers, and was in charge of Messrs. Brown & Canfield.
Morocco was represented by Klabolt & Fogarty, and was a rich display of fine boots and shoes. It was in charge of Walter Smith, Frank Bradeen and Frank Shepherd.
The fortuneteller's wigwam was in charge of Miss Sybil Goodey, and Miss Charlotta Goodey was the fortuneteller.
IN THE OLD ART GALLERY
France was also represented in the old Art Gallery by a French restaurant, in charge of C. B. Spears, who served hot lunch.
Anderson's photographic display was in charge of George Diehl, who took photographs by means of flash light.
The old ladies' corner was represented by a number of children, who were dressed in costumes of the olden time, and was in charge of Miss Fannie Fisher. The children were Ethel Edwards, Lillie Phillips, Helen and Nellie Watson.
The Woman's Building was represented by Mendell Woman's Relief Corps and was in charge of Mrs. Thoma.
IN REPRESENTATIVES HALL
In Representatives Hall, wheels and cases were represented by Ralph McCord, who had a number of electric bells and appliances put in, and little Susie Nebinger and Jennie Price made merry music on them all evening.
The Streets of Cairo were represented by the Fancy Bazaar, whose display was in charge of Ed. L. Conner, assisted by Ed Link and Misses Jennie Ridgeway, Fern Frazer, Susie French, Alma Stewart and Minnie Connor. Will Bradford sold bumbum candy. J. W. Ramsey's pony was there.
The Speaker's stand was occupied by the Ferris Wheel, in charge of Kessberger Bros. It was operated by electricity and was illuminated by electric lights of various colors.
A ship to represent Columbus' flagship, the "Santa Maria," was a conspicuous figure in the Fitzgerald grocery exhibit.
The red and yellow flag of Spain floated over the booth of Stephenson Woman's Relief Corps No. 17, which was in charge of Misses Lulu DeFrates, Louise Schwarberg and Emma Weaver, and Messrs. John Perry, Charles E. Ralph and John Miller.
The harness business was represented by Schlierbach & Bluecke. Saddles, harness, whips and the like were displayed here.
John S. Condell, Jr., represented the stove business with a very fine display, picked from his stock.
J. J. Parkerson represented the farm exhibit from Illinois. It contained several kinds of potatoes, corn, turnips, onions, and cabbage arranged very artistically in the form of a pyramid. Mr. Parkerson was assisted by Miss Laura Parkerson.
Ceylon was represented by George S. Connelly. The display was in charge of H. G. Tobias, a Ceylon gentleman, who served tea in the Woman's Building at the World's Fair, and who arrived yesterday from Chicago and is the guest of Mr. Connelly. He served tea worth $200 a pound for 25 cents per cup.
The Prather and McCoy Company had a good show, representing buggies and farm implements. They had four of the souvenirs present, which they received from the World's Fair for their implements.
The Japanese display was under H. K. Tituska, the Japanese merchant, who is now selling at James R. Maxcy's place some of the goods he had at the World's Fair. He was assisted by Misses Jessie Nodine and Tillie and Nettie Maxcy.
Harry B. Thayer's automatic clock was there, and a fee of 5 cents was charged to see it.
Portugal was represented by Mr. & Mrs. F. A. DeFrates, Mr. and Mrs. Joseph McHue and Mr. and Mrs. J. L. Fortado, who exhibited a large amount of fancy work from Portugal. The Sylvester String Band was stationed there.
The German booth was in charge of seven small children dressed in old-time German dresses and wooden shoes.
T. P. Scalzo represented tropical fruits of the south and Green & Lewis represented hair dressers.
Thirty-two of the Smith Zouaves, under the leadership of Capt. Hal M. Smith, gave a drill during the evening, on the first floor. It was followed by a drill by sixteen members of Oscar J. Dunn Camp, Sons of Veterans, Colored, in command of Oscar Yates, after which seventeen of the Daughters of Rebekah, commanded by Capt. William Duggan, gave the best drill of the evening.
The entertainment will be repeated again tonight. The Watch Factory Band, with Prof. Louis Lehman as director, have kindly consented to furnish music tonight.
Illinois State Register - February 2, 1894
A SWEEPING BLAZE
FIRE STARTING IN LITTLE'S BARN PROVES DISASTROUS
A Block of Building Swept Away and Still Raging
Little's livery stables and barns, at the corner of Fourth and Adams streets, caught fire at 1:30 o'clock this morning. They were totally destroyed. About twenty-five horses also perished together with an enormous quantity of hay and feed. A number of vehicles belonging to Lyon & Smith, the transfer men, were also enveloped in flames. At this hour it is impossible to estimate the loss, but it will be very heavy.
At 2 o'clock Salzenstein's barn and Armory hall and Sommer's drug store across Fourth Street are on fire and all efforts to save them seem futile. The origin of the fire is unknown but it is the most destructive blaze that has been in the city for years, and it is impossible to tell where it will be checked, as clouds of sparks are flying for blocks to the east.
A rough estimate of the loss at this hour – 2:10 – is $50,000.
The Revere House caught about 2:10, but the firemen hope to save it.
Illinois State Journal - November 24, 1894
AFTER THE BIG FIRE
Thousands of People Visit the Scene of Destruction and Desolation
CHARRED BODY OF GEORGE BREWER IS RECOVERED
Scores of People Involved More or Less by the Conflagration
The Approximate Losses and Where the Insurance Was Placed
Though horrible and destructive was the conflagration yesterday morning which laid in smoking waste a half block of buildings, destroyed a human life and incinerated a half hundred poor dumb animals, there was a terrible sublimity and fascination about the hungry flames which held the anxious watchers to a contemplation of the weird and awful picture until the morning dawned. Not a block in the city could have been chosen to furnish a fiercer sea of flame. In its entire sweep across the block it had the most inflammable material to carry it along. Hay, straw, drugs, chemicals of all kinds, ammunition, and lumber perfectly dry, constituted food for the fire fiend. So vigorous were the billows of fire that they sent huge burning brands many blocks distant to the northeast where they planted incipient fires and kept the owners of property on the alert. Had it not been for this vigilance, a conflagration would have resulted against which, with the strong wind, the entire fired department would have been powerless. Hundreds of citizens remained up all night guarding property, and despite their watchfulness, the fire was communicated to the Elks' Clothing House, the roof over the offices of Drs. Kerr and Bartlett and to the awnings and cornice of the stores of Henson Robinson, Bengel Bros., Justice Langston and McMahon. Prompt work saved these buildings and put the entire north side of the square out of danger. Charred fragments were found in door yards fully a mile northeast of the scene of the big fire. There is no doubt that the fire was of incendiary origin and not much objection to the theory that the fire at Boone's grocery store in the southwest quarter of the city was started by the same party or parties in order to divert attention from the business portion of the city and get the fire department as far removed as possible in order that the greater blaze might secure good headway.
The fire started shortly after 1 o'clock and it was 6 o'clock before it was regarded under control. The invincible character of the old brick building on the corner of Fourth and Washington, occupied by Anderson, the tailor, undoubtedly did much to save the Revere House and the Palace from the flames which eagerly reached for them. The walls of this building were considerably damaged, but to the casual observer it appears to have escaped well. Its doom seemed certain at 3 o'clock and was so chronicled.
A Scene of Desolation
Thousands of curious people from the city and country were attracted all day to the smoking ruins. Many farmers on their way to the city, who were not situated as to learn from the press what had happened, suspected that something unusual had occurred when they saw along the highway miles to the west of the city a number of horses covered with blankets and wearing halters from which the straps had been partially cut. The frenzied animals, some of them severely burned, seem to have gone as far as possible from the scene of their injuries. The sight which greeted the spectators where the fire had done its work was a rare one in Springfield. Tangled and fallen telegraph and telephone wires and charred poles, weird in their nakedness, first caught the view and prepared the spectator for the greater scene of desolation beyond. Here and there the flames were still breaking out impatiently and dense volumes of black smoke from wet bundles of hay and straw filled the air and made it suffocating. Added to this was the strong odor of burned and burning horse flesh. The falling in at intervals of the walls gave a ragged appearance to the gutted buildings and the chaos was intensified by the shapeless mass of charred beams, twisted iron and the remnants of what were once handsome conveyances. Fifty feet back of the Fourth street entrance to the Little stables lay the hideous trunks of ten horses. The heads, limbs, and tails were gone and the bodies presented a horribly repulsive appearance. The bodies of many poor animals which had burned to death on the second floor were partially concealed in the bundles of baled hay. A number of animals which escaped with their lives were so badly burned that they were shot. Some of them were without manes and tails; others' eyes were burned out and from the bodies dropped pieces of roasted flesh. It was a sickening sight for those who perceived the agony of the beasts.
Brewer's Charred Body Found
The report which became current when the fire was at its height that George Brewer, a hostler at Salzenstein's had been burned up, was confirmed at 8 o'clock yesterday morning when the body was recovered from the ruins in the back of the stable. Nothing was left but the trunk of the body and a part of the clothing underneath the unfortunate man, which had escaped the ravage of the fire. In a pocket were found a number of letters which fully identified the body as that of Brewer. The remains were carried into the improvised undertaking establishment of Hemberger, across the street from where he was burned out. In the afternoon Coroner Burkhardt held an inquest. George Brewer, son of the dead man, and a stage carpenter at Chatterton's, identified the body by the letters. David Davis, the night watchman at Salzenstein's stable, testified that he saw Brewer come into the building early in the evening and go up into the hay loft to bed, as was sometimes his custom. When Stern's stable took fire, Davis called to Brewer several times and had to leave the old gentleman to his fate. Davis is positive that no one else was in the loft and that no one else perished. The jury's verdict was in accordance with the testimony given by these two witnesses.
APPROXIMATE LOSSES
The Estimates Given Are in Some Cases Still Indefinite
It was difficult yesterday to get a satisfactory footing for the more important losses sustained. Approximately they are as follows:
Loss Insurance
Little & Son …… $35,000 $ 3,000
Lyon & Smith …… 7,000 4,100
Salzenstein …… 15,000 8,500
State of Illinois ….. 2,000 1,000
Frank F. Pillo …… 1,100 none
Company C …… 1,000 none
Hemberger …… 3,000 2,000
Smith Bros. …… 3,000 covered
J. H. Utley …… 12,000 8,500
All of the horses in Salzenstein's barn were rescued. He had sixty three head, including boarding horses, and they were all accounted for yesterday afternoon. Albert Nusbaum found fifteen west of the city. Of this number eleven belonged to Salzenstein, two to Sol Stern, on to J. T. Grimsley and one to J. B. Barnes. The last two were from Little's barn and were found about eleven miles west of town. Mr. Salzenstein lost everything that was on the second floor of his stable. Colonel Block's surrey and Meyer Seeberger's phaeton were on the elevator and were the only rigs of the boarders that were saved. Vincent Hemberger's hearse was standing near the front on the second floor and was seen to fall through the floor just before the front wall caved in. One buggy and three hacks were all the vehicles that were saved. About fifteen sleighs, a number of rugs, sets of harness, seventy tons of hay, about 2,000 bushels of corn and over 500 bushels of oats were all stored on the second floor and fell an easy victim to the flames. Nothing now remains of this outfit but a mass of twisted irons. The safe was covered in debris, but was removed last evening. All the books and accounts were locked up and a little money. The desk, which contained the day book and a few minor documents, was consumed. The exact loss could not be estimated by Mr. Salzenstein. The building, which was a two-story brick structure, was erected in 1890, at a cost of $6,000. An insurance of $2,500 was carried on the building. As soon as the losses are adjusted, Mr. Salzenstein will begin to clear away the ruins preparatory to rebuilding a stable. The building to the east of the livery stable was occupied by Vincent Hemberger & Co., the undertakers. The interior of the building was gutted and Mr. Hemberger sustained a loss of $3,000, including the hearse.
Little & Son have not yet been able to compute their loss definitely. Dr. Little fixes the loss on buildings at $20,000 to $25,000. There are sixty or seventy horses missing. The exact number cannot be ascertained until the stray animals are returned from the country. With the horses, conveyances and feed in the stables, the total would be brought well up to $35,000 or $40,000. He had $6,000 insurance on stock, $6,000 on the stable, $3,000 on Armory Hall and $1,000 on the Hemberger building. Among the boarders who sustained loss by the destruction of the Little stables were: Fred Buck, a horse; Secretary Hinrichsen, a horse; Colonel N. B. Wiggins, the big heavy coal team; McGrue & Powell, team, wagon and harness; Wickersham & Son, a horse. Little got out four horses, two of which were afterwards killed. Those whose property was saved are: Rev. E. B. Randle, Rev. D. S. Johnson, John Grimsley, J. B. Barnes, Dr. Y. D. Scales, James Stout. It is not certain about Mr. Stout's horse. The horses of Messrs. Barnes and Grimsley were found six miles west of town.
Those who sustained loss by the Salzenstein fire were: Dr. Walter Ryan, Dr. George F. Stericker, Charles Hurst, three vehicles and a sleigh; John McCreery, one buggy; John H. McCreery, buggy and sleigh; conveyances, John Pierik, Ben Brainerd, Ernst Helmle, Armour and Will Shutt. There are probably others not yet heard from.
Smith, the undertaker lost two fine hearses in the Little fire. They were upstairs. Frank Williams lost his surrey, horse and harness.
Lyon & Smith lost between sixteen and eighteen head of horses and several single transfer wagons. All their omnibuses and heavy transfer wagons were saved, together with a few hacks. This firm also suffered a small additional loss in the burning of a quantity of feed. They had thirty-four horses and sixteen have been accounted for. Four teams were out when the fire started and eight were in Sol Stern's feed yard. These were rescued. Two of the other horses were found about 9 o'clock but they were so badly burned they had to be killed. Their loss will be about $7,000 on which is carried an insurance of one third of the amount. The books were all saved. The safe was opened and a number of railroad tickets and about $200 in money were taken out.
Frank Pillo, the blacksmith, suffered a loss of about $1,100. He valued his stock of shoes at $500 and about $600 worth of stock of the Pillo Remedy Company consisting of drugs for the treatment of horses, was destroyed. He carried no insurance.
Yates and Co. were unable to compute their loss, but it will probably not exceed $500. All the machinery used in the process of making their cattle food was burned, together with a quantity of ingredients used in their line of business.
W. M. Sidwell, a cabinet maker, and William Mullen, who occupied rooms over Hemberger's lost all their effects.
About 5 o'clock fire was discovered on the roof of the building occupied by C. F. Wiesenmeyer, the harness maker, at 419 East Washington Street. The firemen turned their attention to the buildings and after half an hour's labor, subdued the blaze. The upper floors occupied by Drs. Bartlett and Kerr were scorched and drenched with water. The adjoining building was also badly damaged with water. The loss will probably be $250 on each building owned by Mr. Latham of Lincoln and Mr. Wiesenmeyer.
The Gatling gun section of the Fifth Infantry had removed its effects to the Armory Hall at 10 o'clock on the evening before the fire. Their property was destroyed, including the Gatling gun. The new uniforms of members were also burned, as were those of some of the members of Company C. The Company also loses many valuable records and trophies which can never be replaced.
J. W. Utley, the proprietor of the wholesale drug store which was located under the Armory Hall, is a heavy loser. His stock consisted of all sorts of chemicals, drugs and oil and he had a large assortment on hand. He carried considerable insurance but not enough to cover the loss.
Statement of the Insurance
Following are the insurance agents in this city whose companies are involved in various amounts by the fire:
A. and George P. Kessberger: For Salzenstein, American Company, Philadelphia, $500, St. Paul Fire & Marine, $750; Hamburg-Bremen, $750; German Freeport, $500; for Vincent Hemberger, German Freeport, $500; for Sol Stern, Hamburg-Bremen, $1,000; on the Lutheran church, German Freeport, $3,000; Turner Hall, German Freeport, $1,500; American, Philadelphia, $1,500.
Charles V. Hickox: For the Little & Son Livery Company, Prussian National, $1,000; American Central, $1,000; for J. H. Utley, Connecticut Fire, $2,000; Phoenix of Hartford, $1,000; Greenwich Insurance Company, $1,000; Orient Insurance Company, $1,000; for E. Salzenstein, American Central Insurance Company, $500; for Dr. Stericker, Fireman's Insurance Company, $300; for Stuart Broadwell, Fireman's Insurance Company, $400.
Vance & Dooling: For Elizabeth M. Little, Pennsylvania Fire Insurance Company on Armory, $1,000; for S. N. and G. J. Little, Phoenix of Brooklyn and Northern of London, $3,000 on stable; for Little & Son Livery Company, Niagara of New York and Scottish Union, $2,000 on stock; for Lyon & Smith, Queen of New York and Lancashire of Manchester, $4,100 on stock; for E. Salzenstein, Northern, $1,100 on stock; for G. J. Little, Northern, $1,000 on building; for State of Illinois, Traders' Fire Insurance Company; Chicago, $1,000 on armory supplies.
D. & F. L. Grant; for Emanuel Salzenstein, North American, $2,700; Springfield (Mass.) Fire & Marine Company, $600; for Charles Salzenstein, Royal of England, on horses, $2,200; for Sol Stern, Springfield Insurance Company, on building, $650; Continental on hay, $500; for Fred Buck, National, on horse and buggy, $225.
C. F. Herman: For J. H. Utley, on drug stock, $3,500.
E. S. Sherwood: For Little on barn, $2,000.
Will Start Up Again
Those who suffered loss will start up in business as soon as practicable again. Salzenstein had not decided yesterday afternoon where he should locate for the time being, but he expects to be doing business before cold weather sets in. All his horses were saved, but he will be obliged to stock up again with conveyances and sleighs, considerable of this stock having been destroyed.
Little's will begin Monday morning, if their present plans are followed, to erect temporary quarters at the corner of First and Adams Streets and will rebuild later, on the site of the old stable. Pillo, Utley and Yates & Co. have not determined their course. Hemberger has set up business on the north side of Washington, between Third and Fourth Streets. Lyons & Smith are conducting their transfer business as their equipments permit.
SNEAK THIEVES WERE BUSY
Sneak thieves took advantage of the fire and got in their work. A number of arrests were made, and all had significant articles or money on their persons.
Mrs. M. E. Waggoner, a resident of the Anderson building, lost two revolvers, a bracelet, a clock, an oxidized comb case, three silk handkerchiefs, $13 in money and some coin. In her excitement to save her goods she was hurrying down stairs with a number of dresses when she says she was met by William Ecklin. He asked her if he could assist her in any manner. She handed him the clothes and told him to take them to the Revere House. She then went to the Revere House to get her clothes, but they were gone. She told the police and they found Ecklin. He said he had taken the clothes to his room for safe keeping. He was arrested and two of her handkerchiefs were found on his person and some of the goods were located in his room. Mrs. Waggoner secured a warrant for his arrest on a charge of burglary and larceny, and he was placed in jail.
A one-legged man giving his name as Alvis Casper was arrested as a suspicious character. He was an early arrival at the fire and was up and down the alleys. He was taken to the police station and when searched $118 in money and two watches were found on his person. He told conflicting tales as to how he came in possession of the articles and for what reason he was hanging about, so he was locked up in jail. No charge has yet been preferred against him.
William Thompson, Charles Smith and Smith Davis were arrested and held on suspicion. They had some fine underwear and handkerchiefs in their possession and one was wearing a fine overcoat. Another had a pawn ticket for a hat which he had put up for $2.
Jerry Kilday, an old offender, was arrested on a charge of the larceny of a fine overcoat from Anderson's tailor shop. Anderson had his stock on the sidewalk and it is said Kilday took one.
Officer Tammany found a bunch of red wool socks, an overcoat and clock in the alley back of Allen & Ryan's saloon. They await the owner at the police station.
Albert Bowman, residing at Fifteenth and Madison Streets, had a white mare stolen from his barn.
Thieves invaded the hen house of Carrie Salzenstein on north Sixth Street and stole five fowls.
The hen coop of Edward Purcell at Ninth and Washington Streets was entered, but the thieves were frightened away.
Burglars entered the residence of Frank Simmons on south Fifth Street, but were frightened away before anything was taken.
Notes of the Fire
The big nine inch main on the square was completed just in time.
Lewis Sommer, the druggist, loses about $500 by fire and water.
Company C mourns the loss of its piano and other valued appurtenances.
The Zouave cadets escaped without a loss. None of their effects were in the armory.
George Gordon of Ridgely is under arrest on the charge of being implicated in the murder of Eugene Jones.
During the fire someone made off with the overcoat belonging to Sergeant W. T. Simpson of the regular army.
Because telephone connections were bad, a courier was dispatched on horseback to the waterworks to ask for full pressure.
Representative W. J. Butler is a lucky one. His was about the only horse and buggy rescued uninjured from Little's stable.
Springfield is grateful to Decatur, Jacksonville and Lincoln for their prompt responses when the mayor appealed to them for aid.
It is said that the Anderson building has caught fire at least twenty times in its history. Shell though it is, the destroying fiend cannot accomplish its ruin.
As to discovery, the fire seems to belong to Officer De Frates and Charlie Tomlinson. Like the nut over which the boys quarreled, Tomlinson saw it and De Frates was the first to pick it up.
Among the injured are: R. E. Corson, burned while rescuing Utley's books; L. J. Johnson, ankle sprained in falling from a ladder; Officer De Frates, burned on the hand while rescuing horses.
The barn of Frank Myers was prepared by barn burners last evening with the usual baptism of oil. The rascals were apparently frightened away before completing their dastardly work.
Telephone connections with the northern part of the city were ruined by the fire. Prompt work at repair put them in good running shape by nightfall. The police and fire alarm system also suffered greatly,
Several of the firemen became intoxicated and were very boisterous. They were sent away and were suspended pending an investigation by the fire and water committee. While the men were trying to subdue the blaze on the Wiesenmeyer building, one of the intoxicated firemen wanted to drop the hose and fight. The men suspended were Charles Kerns, William Cunningham and Al Leibers.
Illinois State Journal - November 25, 1894